BetChain awesome free spins today!
August 13, 2020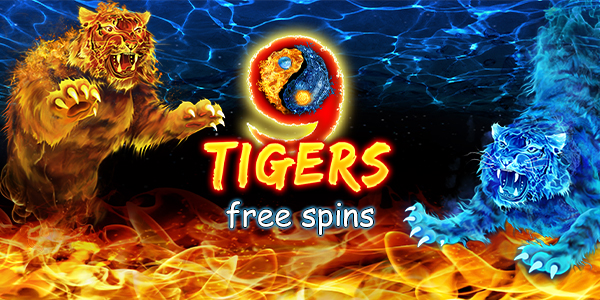 9 tigers
The elements of water and fire unite to bring big wins!
From the very beginning, the Yin and Yang forces embrace the players who enter the oriental world of 9 Tigers. This slot triggers an irresistible desire to maintain internal balance. Two elements – fire and water – represented by two tiger symbols awaken the player's divine power that is necessary to control them and bring natural harmony.

During Tigers Bonus, the tamed tiger must attract the beast representing the opposite element so the Yin and Yang balance is maintained. As ancient spirits can be very generous, the players who successfully unite fire and water tigers can expect the highest wins! This engaging slot, set in the land of beautiful Chinese gardens, will evoke positive as well as nostalgic feelings. The calm, relaxing music helps in achieving inner peace, while the tigers awaken the force to fight. These two feelings allow the players to maintain a holistic balance – just like Yin and Yang symbols.

With 9 Tigers everyone can be Zen – all it takes is just one moment inside this majestic oriental temple! Beautifully executed visuals will enchant every player and captivating gameplay will make sure that nobody wants to leave the world where 9 Tigers reign.

Another great advantage of this slot is the complete set of Unique Wazdan Features. Players can adjust 9 Tigers to their personal preferences to fully enjoy what the game has to offer. Volatility Levels™ enable users to choose their preferred amount and frequency of potential wins. With Big Screen Mode players can zoom in the reels to fully focus on the game. Additionally, Ultra Fast Mode speeds up the gameplay while Ultra Lite Mode helps those players who are suffering from a slow internet connection.

With the perfectly executed oriental theme, 9 Tigers offers a relaxing experience, which can also provide a lot of excitement thanks to its bonus game. Give this slot a chance and lose yourself in the ancient world!

Don't wait to get these exclusive 20 or 40 Free Spins in "9 Tigers", the hottest online slot from Wazdan!

You can also try these awesome slots by them:
Great Book Of Magic Deluxe
Reel Hero
Deposit and get 20 or 40 Free Spins on August 13, 2020
Min. deposit 20 Free Spins: 0.002 BTC (other currencies below)*
Min. deposit 40 Free Spins: 0.003 BTC (other currencies below)**
Max. win: 0.25 BTC! (other currencies below)***
Available on every deposit on August 13, 2020 (UTC)
* 11 EUR, 500 RUB, 33 AUD, 50 CAD, 700 NOK, 0.1 ETH, 0.004 BCH, 0.03 LTC, 1000 DOGE
** 20 EUR, 700 RUB, 50 AUD, 100 CAD, 1100 NOK, 0.15 ETH, 0.007 BCH, 0.05 LTC, 2000 DOGE
*** 1000 EUR, 50000 RUB, 1000 AUD/CAD, 10000 NOK, 25000 ZAR, 100000 JPY, 10 BCH/ETH, 50 LTC, 750000 DOGE, 1000 USDT
Wazdan games are restricted in some countries. If they are restricted for you you can play awesome slot by Bgaming Elvis Frog in Vegas
Take a step inside an ancient garden and get lost in the beauty of 9 Tigers!